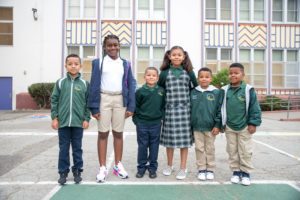 Support
Aspire Public Schools Foundation
To fulfill our mission and prepare our students for college, career, and a fulfilling future, we need your help. Gifts of any size make a difference. You can impact the lives of thousands of children by making a donation today. As a not-for-profit 501c(3) organization, contributions to Aspire Public Schools Foundation are tax-deductible.
Other Ways to Donate:
Regular Mail Donations:
Prefer to send a check? Please mail your contribution to us at:
Aspire Public Schools Foundation
1001 22nd Avenue, Ste 100
Oakland, CA 94606
Stock Transfers & Gift Processing:
To donate or transfer stock to Aspire Public Schools Foundation, or for questions on processing a gift, please contact Mari Bennett.
Donate via a Donor-Advised Fund:
If you would like to donate directly from your donor-advised fund, please click here.
Aspire's Financial Model
Overview

Charter Schools are public schools, and we receive both state and federal funding primarily on a per-pupil basis in order to operate.
As charter schools, we do not have access to the same facilities or facilities funding as do traditional public schools. Therefore, we have to pay for our facility costs out of our general operating funds.
100% of fully-enrolled Aspire schools are "financially sustainable" on the public dollar, meaning they require no philanthropic supplement to their public funding in order to operate.
Aspire operates both a Home Office in Oakland and Regional Offices in order to provide critical, scalable supports to all 36 schools simultaneously–across instructional program design, college initiatives, teammate effectiveness, technology, human resources, facilities, operations, finance, fundraising, and more. 13% of Aspire's public funding is allocated to Home and Regional Office operations.
Our success would not be possible without the generous financial donations of individuals and foundations.
THANK YOU TO OUR 2022-2023 SUPPORTERS
One of the keys to creating change in public schools is the support of generous donors. Aspire Public Schools Foundation would like to thank all who donated their time, energy, services and financial support in 2022-2023 to ensure that our scholars are prepared and empowered to build a fulfilling and liberated future for themselves and their communities, including but not limited to:
Variable Content
INVESTORS: $250,000+
Ballmer Group
Hastings Education Fund
Kenneth Rainin Foundation
Merrill Family Foundation
Silicon Schools Fund
PRINCIPALS: $100,000 – $249,999
Beth and Michael Hunkapiller
Bill & Melinda Gates Foundation
The Green Foundation
Hastings Growth Fund
DIRECTORS: $50,000 – $99,999
Anupam and Kavita Mishra
Joyce and Robert Wisner
Leslie and George Hume
Rogers Family Foundation
William Zimmerman Foundation
ACHIEVERS: $10,000 – $49,999
Billy Harris
Beth and Brian Grossman
Charles and Karen Couric
Cori and Tony Bates
Franklin and Catherine Johnson Foundation
Great Public Schools Now
Irene S. Scully Family Foundation
Javier Cabra Walteros
Jonathan and Kimberly Garfinkel
Kay Hong and Jamie MacQuarrie
Lene and Steve Joy
Lorea Martinez and John Rethans
Quest Foundation
The Ralph M. Parsons Foundation
Richard and Theresa Crocker
Warriors Community Foundation
SUPPORTERS: $1,000 – $9,999
Amy Frost
Anna Brady
Anthony Barkett
Apple
Ben Archibald and Steph Albert
Brian and Molly Auld
Burnham Benefits Insurance Services
Capital Group Companies
Carmen Jiron
Christie Westover
David Kator
David Kennedy
Don and Sue Shalvey
Donald and Linda Wiley
Elise and Sayed Darwish
Gregory Schultz
Hiten and Sangita Patel
Julian Tamayo
Kathleen and Richard Hoertkorn
Lilah and Alex Wolf
Los Angeles Clippers
Louise Bryson
Mala Batra
Marc Allen
Margaret Perrone
Marsh & McLennan
Martin Kaufman
Michele Fernandes
Molly Wood and Dagny Maidman
Nathan Crum
New York Life
Paritosh and Nisha Somani
Sai Selvaganesan
Shishir and Anjuli Mehrotra
Steve Dauber
Tom Keiser
UKG
Umpqua Bank
Uvas Foundation
Vishal Patel
W. Clement & Jessie V. Stone Foundation
Walmart
Warren Felson and Lucy Sun
Wendy Marquez
Young, Minney & Corr, LLP
FRIENDS: $500 – $999
Al Bennett and Rudi Berkelhamer
Andrew Trott
Brooke Kuhn
Carol Ornelas
Esperanza T. Rivera
Google
Jane Bryson and Jeremy Milo
Jennifer Natta
Jocelyn Tseng
John Maddox
Liangliang Sengco
Liat Bishko
Lissa Nakamura
Lynzi Ziegenhagen
Mandeep Gurm
Michele Freed
Paul Tietz
Peter Mueller
Robert Lister and Ana Chang
Sydney and Scott Tanner
Veeral and Ami Desai
Vision Service Plan
Wells Fargo