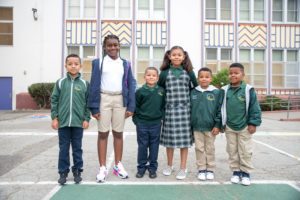 Support
Aspire Public Schools Foundation
To fulfill our mission and prepare our students for college, career, and a fulfilling future, we need your help. Gifts of any size make a difference. You can impact the lives of thousands of children by making a donation today.
As a not-for-profit 501c(3) organization, contributions to Aspire Public Schools Foundation are tax-deductible. Donations can be made directly to Aspire classrooms or to the Aspire Public Schools Foundation as an organization.
If you would like to donate to Aspire's general impact fund, please click here.
Other Ways to Donate:
Regular Mail Donations:
Prefer to send a check? Please mail your contribution to us at:
Aspire Public Schools Foundation
1001 22nd Avenue, Ste 100
Oakland, CA 94606
Stock Transfers:
To donate or transfer stock to Aspire Public Schools Foundation, please contact yuki.schroth@aspirepublicschools.org.
For questions on processing a gift, please contact mari.bennett@aspirepublicschools.org.
If you are interested in visiting an Aspire School, please let us know: communications@aspirepublicschools.org.
Donate via a Donor-Advised Fund:
Aspire's Financial Model
Overview
Charter Schools are public schools, and we receive both state and federal funding primarily on a per-pupil basis in order to operate.
As charter schools, we do not have access to the same facilities or facilities funding as do traditional public schools. Therefore, we have to pay for our facility costs out of our general operating funds.
100% of fully-enrolled Aspire schools are "financially sustainable" on the public dollar, meaning they require no philanthropic supplement to their public funding in order to operate.
Aspire operates both a Home Office in Oakland and Regional Offices in order to provide critical, scalable supports to all 38 schools simultaneously–across instructional program design, college initiatives, teammate effectiveness, technology, human resources, facilities, operations, finance, fundraising, and more. 13% of Aspire's public funding is allocated to Home and Regional Office operations.
Our success would not be possible without the generous financial donations of individuals and foundations.
THANK YOU TO OUR 2019-2020 SCHOOL YEAR SUPPORTERS
One of the keys to creating change in public schools is the support of generous donors. Aspire Public Schools Foundation would like to thank all who donate their time, energy, services and financial support in the 2019-2020 school year to make College for Certain a reality for our scholars, including:
Variable Content
INVESTORS: $1,000,000+
Charter School Growth Fund
Silicon Schools Fund
PRINCIPALS: $100,000-$999,999
Beth and Michael Hunkapiller
Kenneth Rainin Foundation
Leslie and George Hume
Michael & Susan Dell Foundation
Mishra Family
Patty Quillin and Reed Hastings
Richard and Theresa Crocker
Steven Merrill and Katie Budge
The Big D Foundation
The Green Foundation
Tipping Point Community
DIRECTORS: $10,000 – $99,999
Charles and Karen Couric
Charles and Lynn Schusterman Family Foundation
Educate78
Families in Action for Quality Education
HEDCO Foundation
Irene S. Scully Family Foundation
Jim and Bonnie Quigley
Jonathan and Kimberly Garfinkel
Joseph Drown Foundation
Joyce and Robert Wisner
Kay Hong and Jamie MacQuarrie
Ken and Kathy Hao
League of United Latin American Citizens (LULAC)
Lene and Steve Joy
Rogers Family Foundation
Silicon Valley Community Foundation
Tarim Wasim
Warren Felson and Lucy Sun
Warriors Community Foundation
Wells Fargo Foundation
William Zimmerman Family Foundation
ACHIEVERS: $1,001 – $9,999
Adriana Vermut
Amar Goel
Andrew Dodson
Anonymous
Anthony Barkett
Antony Ling
Brian and Molly Auld
Chian Gong and Adrian Graham
David Kennedy
Ed and Nancy Conner
Eileen Boyle
EJ Blumberg
Hiten Patel
James Boyd
Jerome and Mary Vascellaro
Jessica Stewart
Kathleen and Richard Hoertkorn
Kathryn and Jon Goulding
Kevin and Allison Leslie
Liat Bishko
Mala Batra
Mr. Robert Lister
Nikola Filby
Oakland Public Education Fund
Paritosh and Nisha Somani
Parul and Ahutosh Somani
Phyllis and Fritz Grupe
Puja Batra
Randee Seiger
Randy Clark
Sean and Alisha Griffey
Shalini Agarwal
Stifel, Nicolaus, and Company
Ultimate Software Group, Inc.
FRIENDS: Up to $1,000
Abigail Smith
Alicia Seiger
Alissa Stolz
Allyson Stein
Amanda Montgomery
Amit Patel
Amy Moore
Amy Ng
Andrea Alvarez
Andrew Westphal
Angela Montagna
Arden Caffrey
Arthur J. Gallagher & Co.
Ben Kennedy
Benjamin Crosby
Bess Kennedy
Betty Welch
Brisa Wendt
Burnham Benefits Insurance Services
Carla Beach
Carol Boochever
Cesare Orsini
Chevron
Cliff Hawkins
Corinne Patricio
Daniel Jerabek
Darlene Kong
David Nutt
Deeksha Bhat
Deepa Pathak
Dennis McCoy
Donna Walton
Elena Sanina
Elise and Sayed Darwish
Erin Cox
Felicity B Taubman
Genentech
Gordon and Tina Strause
Greg Jones
Heather Kirkpatrick
Heidi Eaton
Holly Maddox
Jeanine Hawk
Jenny Alsup
Jo Marengo
Joel Kellman
John Fanning
John Maddox
Jose Jimenez
Joy Leighton
Julie Meyer
Justin Taylor
Karen Ringewald
Kate Ford
Katherine Barone
Kelly Morehead
Kiana Williams
Kim Overton
Kimi Kean
Lauren Barraco
Law Office of Young, Minney & Corr, LLP
Leilani Lafaurie
Liliana Padilla
Linda Bao
Lissa Nakamura
Lynzi Ziegenhagen
Matthew Hulse
Max and Melissa Polaner
Meryl McCurry
Mitchell Zoelzer
Monica Barba
NewSchools Venture Fund
Nisa Frank
Nitin Kumar
Peter Wilkins
Pooneet & Aditi Goel
Rita Kohli
Rohini Thukral
Ryan Consbruck
Sara Sandhu
Sarah Chappell
Sarah Ellis
Sean and Loran Loosli
Shireen Burns
Sir or Madam
Sonali Pathak
Stacie Picou
Stefanie Suzuki
Stephanie Itelman
Susy Arcos-Rebolledo
Talia Winningham
Theresa Washington
Tiffany Busha
Tom Kennedy
Vanita Puri
A Special Thank You to The Chamberlin Family Foundation for Contributing to Aspire in Other Significant Ways