In another year that brought many twists and turns, I am deeply grateful to Aspire's scholars, team, families, communities, and partners for their ongoing commitment to the success of our schools. As nearly all scholars and teammates came back together in our school buildings, we knew the return would be full of joy and reconnection. But we also knew that our scholars' experiences while they were away would require increased attention on their social-emotional needs and mental health, all while continuing to support their unique academic needs. I am proud to say that we did exactly that.
Aspire is re-emerging stronger. We never thought of this year as an opportunity to make up for lost time. Instead, we focused on ways we could accelerate scholar learning through engaging, rigorous, and culturally responsive academic programming. With a focus on disrupting disproportionate outcomes for our most historically underserved scholars—those with disabilities, multi-language learners, and Black students—Aspire leveraged data to drive decisions about inclusive programming to engage all scholars.
This showed up in many ways throughout Aspire. We expanded Aspire's co-teaching model through a partnership with the CHIME Institute, a national leader in inclusive education. We rolled out a new K-5 science curriculum that provides consistency and professional learning opportunities, and includes culturally responsive teaching practices. We expanded our regional multilingual supports to lay the foundation for more robust professional development opportunities for all. And we worked with teammates across Aspire to define and refine Aspire's definition of culturally responsive teaching, which we will infuse in all of our interactions with our scholars and communities.
Aspire is re-engaging our community. Aspire's highest priority is always the safety of our communities, and never has that been more relevant than during the pandemic. This focus isn't just about physical safety, but also how we cultivate communities that foster inclusive and joyful learning environments. This year, we deepened our implementation of the RULER Social-Emotional Learning curriculum—an SEL approach that builds scholars' emotional intelligence and supports teachers and leaders to build a positive, empowering school culture. We are accelerating our efforts to bring a culturally responsive lens to our work with RULER.
Aspire is re-investing with resilience. Investing in our team isn't just to ensure scholar success, but to promote a sustainable working environment where every teammate feels like they can meaningfully contribute and bring their authentic self to work. This has been a difficult year for educators, and we knew we needed to prioritize teammate well-being so they could show up for our scholars every day. Through initiatives like reopening bonuses, building in more planning time during the work day, affinity spaces, and additional paid time off, we build up our team so they can do the most important work.
We also wanted to use the COVID crisis as an opportunity to reimagine how we allocate resources to maximize their impact on scholar success. Aspire underwent an organizational restructure to move to a more regional model. By moving more resources and decision-making closer to our scholars, we are enabling more local input to inform resource allocation. In the years ahead, this will lead to more direct support for educators in schools, so they can hone their craft, more regional student support services and more content area knowledge closer to the scholars we serve.
As part of our organizational restructure, we are proud to announce a shift in our regional leadership from Area Superintendents to Executive Directors. This new position acknowledges regional leader roles in not just overseeing schools, but also in building community partnerships, developing talent, supporting the operational and fiscal health of each region, and contributing to organization-wide decision making. We have also added a Superintendent of Equitable Instruction in each region, ensuring school leaders have the support they need to build inclusive and effective learning environments for all scholars. And we are proud to be deepening our commitment to Aspire's Equity Commitments through a new role—Chief Equity and People Officer—to ensure our approaches to people development continue to bind us together across the state.
The pages that follow showcase some of the many things we are proud of this year, and are reflections of our ongoing commitment to this important work.
Thank you for your continued support, which helps us deepen our impact and make Aspire stronger each and every year.
With Gratitude,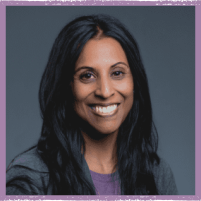 Mala Batra
CEO Aspire Public Schools