5 Reasons Why Aspire Teachers Thrive with Us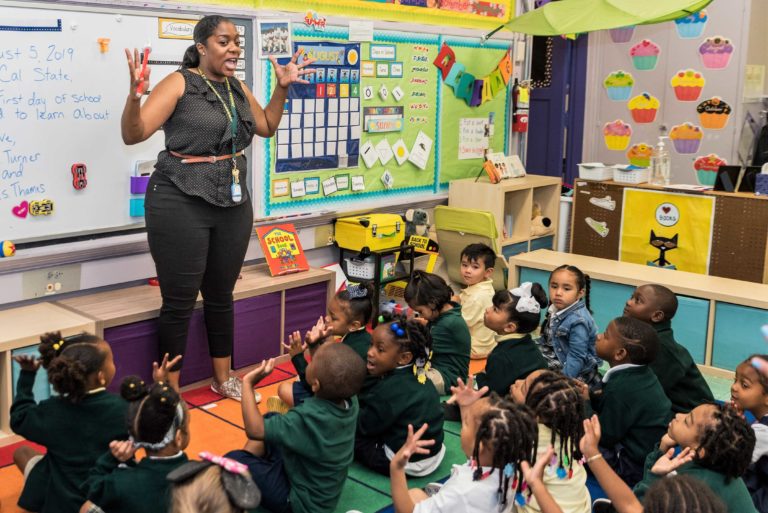 Aspire teachers embrace the hard work that is reflecting, refining, and mastering their practice. With coaching reinforcements and the support of their teammates, our teachers thrive in a collaborative environment.
Apply to teach with us today and be a part of a team that is transforming the educational experience for our scholars.
---
1. We tailor professional development to your needs.
Our teachers develop a lateral relationship with their designated instructional coach to identify areas for improvement and goal objectives to look forward to. Whether you're a veteran in the field or a novice teacher, you can expect our regional and school leadership teams to design professional development opportunities around your needs. Opportunities to develop yourself begin at the start of the school year with a region-wide professional development day, dedicated for team-building and connecting with other site teams to form collaborative alliances. These opportunities also lend themselves to make space to talk about equity in education, how identity shapes our educational experiences, and how we can collectively support Aspire scholars.
2. We foster a culture of high expectations.
Setting a culture of high expectations encourages scholars to meet them. Our teams come together to align on curriculum, manage differentiated instructional practices, and bring to the fore the resources necessary to support our scholars. As our teams delineate expectations for scholars to meet their goals, our teachers receive the training necessary to lead their class to success. 
3. We offer opportunities to lead.
Leadership opportunities are not just exclusive to the classroom. If you are interested in supporting teammate development, mentoring budding teachers through their residency/induction processes, or launching a professional development space, there are opportunities for you to take the lead. Be it as a coach, mentor, or workshop facilitator, our teachers exercise their leadership muscle and stand out as veritable innovators. Many of our teachers have defined career pathways within Aspire and stepped into roles like School Dean, Assistant Principal, or Principal. 
4. We have a unique collaboration framework.
At Aspire, we foster a collaborative framework for our families, teachers, leaders, and intervention specialists to work together for the benefit of each scholar. During family conferences, students facilitate the meeting, in which they celebrate accomplishments and set concrete plans to meet their goals. Additionally, Aspire's support teams come together during Response to Intervention meetings (RTI) and thoughtfully develop differentiated next steps for every single scholar who needs extra TLC. Collaboration is at the heart of how we accomplish great things at Aspire. From bringing families together to help us define our community's core values, to making space during town-halls for teammates to address topics like work sustainability, Aspire takes an "all for one and one for all" approach to getting things done, because we believe we are better together.
5. We provide a free in-house induction program.
It really doesn't get better for a budding teacher at Aspire. Our induction program pairs inductees with a mentor, who will be available as a thought-partner; they support new teacher development, and offer insight into best practices. At Aspire, our novice teachers are set up for success, all without the hassle of finding and funding an induction program outside of the network.
Apply now to join us in making an impact in the classroom!