Celebrating the Contributions of Asian Americans and Pacific Islanders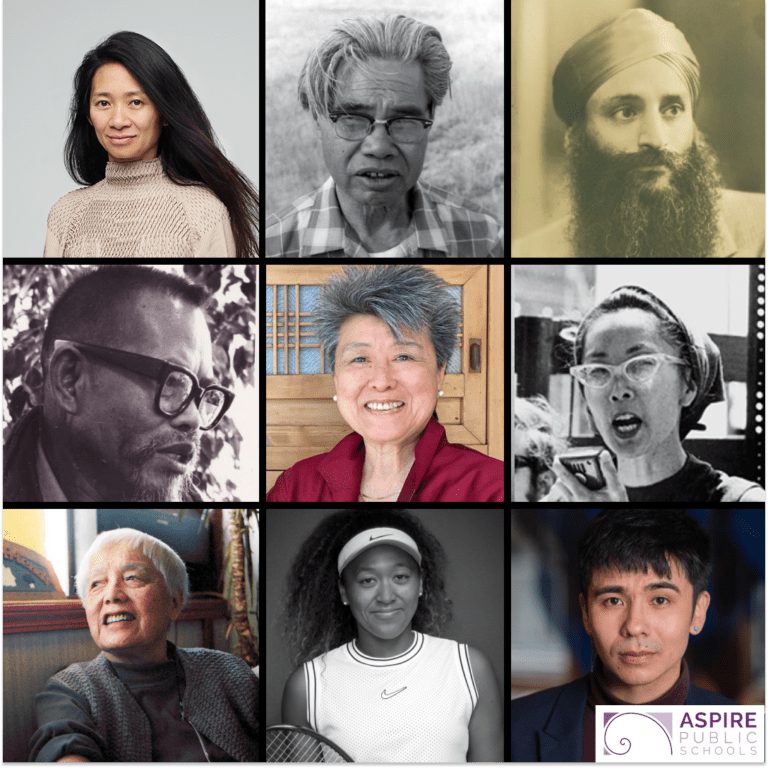 As we celebrate and learn more during #AAPIHeritageMonth, it's important for all of us to continuously engage and encourage learning about the struggles, cultures, and contributions of the AAPI community.
At Aspire, we join our scholars, families, and teammates to celebrate the cultures and histories that reflect our communities as we lean into our values of belonging and community partnership each and every day.
We encourage you to learn more about several figures – past and present represented here – with who you may or may not be familiar and their contributions. Please be sure to visit and access more related learning resources at https://asianpacificheritage.gov.

Grace Lee Boggs (1915 – 2015)
Born in Providence, R.I., 1915 to Chinese immigrants, Grace Lee Boggs, spent much of her life as an activist, writer, and speaker advocating extensively for civil rights and labor rights. Boggs studied at Barnard College and then earned her Ph.D. in philosophy from Bryn Mawr College. Boggs went on and became known, in particular, for her Civil Rights and Black Power Movement activism in partnership with her husband James Boggs in Detroit. Together, they wrote Revolution And Evolution In The Twentieth Century in 1974; in 1998, she published an autobiography, Living For Change; and in 2011, she co-wrote The Next American Revolution: Sustainable Activism For The Twenty-First Century with Scott Kurashige. To learn more about Grace and how she became a civil rights fixture, visit here. 
Yuri Kochiyama (1921 – 2014)
Yuri Kochiyama was an American civil rights activist, particularly known as a champion of civil rights causes in the black, Latino, Native American, and Asian-American communities. Influenced by her Japanese-American family's internment, her association with Malcolm X, she advocated for many causes, including the anti-war movement, and reparations for Japanese-American internees. Learn more about Yuri's lifelong dedication towards social justice, cross-racial solidarity and life here.

Helen Zia (1952 – Present)
Helen Zia is a former journalist, award-winning author, and activist. Helen has been outspoken on issues ranging from human rights to women's rights and countering hate violence and homophobia. She is the author of Asian American Dreams: The Emergence of an American People, about the contemporary civil rights struggles of Asian Americans; her latest book, Last Boat out of Shanghai: The Epic Story of the Chinese who Fled Mao's Revolution, was shortlisted for the 2020 national PEN AMERICA award. She is featured in the Academy Award-nominated documentary, Who Killed Vincent Chin? and was profiled in Bill Moyers' PBS series, Becoming American: The Chinese Experience. Helen has also continued to speak on the recent rise anti-Asian violence and racism in the face of the pandemic and how "how the past can help inform our understanding of where we are today." Visit her website here to access her work and other resources.
Larry Itliong (1913 – 1977)
Larry Itliong was a Filipino-American labor organizer and leader who first organized farmworkers on the West Coast beginning in the 1930s and led (along with Philip Vera Cruz and others) the Delano Grape Strike in 1965. While many may know and recognize Cesar Chavez and Dolores Huerta's work for farmworkers and labor rights, Itliong equally fought for better working conditions and pay. Larry Itliong shared a lifelong fight for a farmworkers union and is now recognized as a founding figure in the California labor movement and its most enduring union, the United Farm Workers. Itliong spent his life standing up for his belief that "everyone has equal rights and justice, but you have to make that come about." In 2015, California legislation passed to marking Itliong's birthday, Oct. 25,  a day to recognize the historic figure and his role in shaping California labor rights and advocacy for the Filipino American community of today.
Philip Vera Cruz (1904 – 1994)
Like his counterpart, Larry Itliong, Philip Vera Cruz was a Filipino-American labor leader, farmworker, and leader. In 1965 Philip and others led the Delano Grape Strike – demanding wages equal to the federal minimum wage. He also helped found the Agricultural Workers Organizing Committee (AWOC), which then merged later with the National Farm Workers Association (NFWA) to become the United Farm Workers (UFW). As the union's long-time second vice president, he worked to improve the working conditions of migrant workers. In 1987 he received the Ninoy M Aquino Award in the Philippines for his service to Filipino Americans. In 1992, he was honored by the AFL-CIO's Asian Pacific American Labor Alliance. Learn more about Philip Vera Cruz's life and work here. 
Chloé Zhao (1982 – Present)
Chloé Zhao is a Chinese filmmaker, known primarily for her work in American independent films. Zhao studied under prominent and award-winning filmmaker, Spike Lee, at New York University's Tisch School of the Arts. In 2015, her debut feature film, "Songs My Brothers Taught Me," premiered at Sundance Film Festival to critical acclaim and earned a nomination for the Independent Spirit Award for Best First Feature. Zhao most recently won the Oscar for directing "Nomadland" – becoming the first woman of color to win the award and the second woman to win. Zhao was also the first woman to get four Oscar nominations in a single year, in the Best Film Editing, Best Adapted Screenplay, Best Director, and Best Picture categories. Zhao also won the Golden Globe Award for Best Director for "Nomadland," making her the first woman of Asian descent honored. Zhao is slated to direct a few big-picture films for this year and next – including Marvel's "Eternals."
Dr. Bhagat Singh Thind (1892 – 1967)
Dr. Bhagat Singh Thind was an Indian American writer and lecturer on spirituality who served in the United States Army during World War I and was then involved in a Supreme Court case over the right of Indian people to obtain United States citizenship. Singh Third was born in Amritsar, Punjab, India and came to America in 1913 to study at the University of California, Berkeley for metaphysics, spirituality, and religion. When America entered World War I, he joined the U.S. Army. Dr. Thind was one of the first Asian Indian soldiers and first turbaned Sikhs to serve in the United States Army during World War I. He was honorably discharged on December, 16th, 1918, and in 1920 applied for U.S. citizenship from the state of Oregon. Since several applicants from India had thus far been granted U.S. citizenship, he too was approved by the district court. However, the Bureau of Naturalization appealed his naturalization on the grounds that he was not white. Dr. Thind fought back against the appeal and his case reached the United States Supreme Court. In 1923 the case of Bhagat Singh vs. the United States, the Supreme Court ruled that the "common man's" definition of "white" did not correspond to "Caucasian" and therefore he could not apply for naturalization. He finally obtained U.S citizenship in 1936 in the state of New York and prolifically published and lectured on the subjects of metaphysics, spirituality and religion throughout his life. 
Ocean Vuong (1988 – Present)
Ocean Vuong is a Vietnamese-American poet, essayist and novelist. Born in Saigon, poet and editor Ocean Vuong was raised in Hartford, Connecticut, and earned a BA at Brooklyn College (CUNY). Vuong is a recipient of the 2014 Ruth Lilly/Sargent Rosenberg fellowship from the Poetry Foundation, a 2016 Whiting Award, and the 2017 T.S. Eliot Prize for his poetry – which made him just the second poet to win the T. S. Eliot Prize for a first book. His debut novel, On Earth We're Briefly Gorgeous, was published in 2019. In his poems, he often explores "transformation, desire, and violent loss." Vuong's work has been featured in many magazines and media, including The Atlantic, Granta, Harpers, The Nation, New Republic, The New Yorker, and The New York Times. Vuong currently teaches in the M.F.A. program for Poets and Writers at the University of Massachusetts at Amherst. 
Naomi Osaka (1997 – Present)
Born in Japan to a Haitian father and Japanese mother, Osaka was raised in the United States – with her family moving to Florida to further her tennis training in 2006. She became the first woman to win successive Grand Slam singles titles since Serena Williams in 2015. At the 2018 US Open and the 2019 Australian Open, Osaka won her first two Grand Slam singles titles in back-to-back Grand Slam tournaments and is the first player to achieve this feat since Jennifer Capriati in 2001. Additionally, in March of 2018, Naomi became the first Japanese woman to win the Indian Wells Masters in California. In 2019, Naomi Osaka has been ranked No. 1 by the Women's Tennis Association (WTA) and is the first Asian player to hold the top ranking in singles. She has since become a four-time Grand Slam singles champion and is the reigning champion at the US Open and the Australian Open.